Sepulveda Pass subway tunnel, Valley rail line raising Valley transit hopes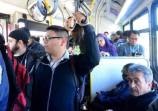 By Ryan Carter (03/13/2016)
Metro's list of people-moving projects, set for release Friday, has recharged hopes for a subway tunnel through the Sepulveda Pass and rail lines traversing the San Fernando Valley.
But on the heels of word that the transportation agency has major Valley projects on its to-do list, those hopes are tempered by questions over where the money to complete them comes from, whether voters will get behind Metro's plan and worries over whether the Valley gets its fair share of transit money.
"I'm certainly cautious," said Rep. Brad Sherman, D-Sherman Oaks. "I think the Valley has been shortchanged in the past, and I hope we're not shortchanged in the future.

Read the entire article at Los Angeles Daily News