LENAX, CMAA Hawaii Chapter 7th Golf Tournament Sponsor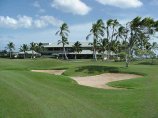 LENAX recently was a Silver Sponsor at the CMAA Hawaii Chapter 7th Golf Tournament at the Ewa Beach Golf Club south of Waikiki. The tournament took place on October 27, 2017 and the foursome that LENAX sponsored includes one of LENAX's Lead Estimators – Joe Miller, CPE– who headed up the foursome.
Joe Miller, a long-time employee of LENAX, is currently working fulltime in Honolulu as our Lead for Changes-in-Claims on the HART (Honolulu Area Rapid Transit) project, Hawaii's new $5.1 billion, elevated rail project currently under construction. The other three golfers are all lead engineering professionals with Stantec who also work alongside LENAX's Joe Miller on the HART project namely Scott Rostek, Ly Pham, and Mark Ebert.
According to the golf pro at Ewa Beach Golf Club, Danny, this year's CMAA tournament was a great success, although there were no holes-in-one and no remarkable final scores, fun was had by all … the only casualties incurred were sunburns and hangovers.