Inside Oceanwide Plaza's Big Concrete Pour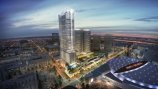 SOURCE: Urbanize.LA - By Staff (04/06/2016)
Lendlease, an international property and infrastructure company, has announced the completion of the initial mat foundation pour for the Oceanwide Plaza development in Downtown Los Angeles. This milestone will allow for vertical construction of the project to begin.
The initial pour, which occurred during March 25th-26th, is described as one of the largest construction mat pours in the Los Angeles history. Crews from Lendlease worked with 700 concrete trucks to pour 7,000 cubic yards of concrete over 700 tons of rebar.
The full foundation will be completed in four phases, consisting of more than 25,900 cubic yards of concrete and six-million pounds of rebar.
Read the entire article at Urbanize.LA