Convention Center Rehab Sparks Dueling Visions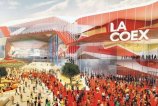 Source: L.A. Downtown News
By Eddie Kim (02/29/2016)
A once-direct path to an updated Los Angeles Convention Center has been thrown into question, as a top city official has unveiled a plan that could lead to a massive new project in South Park. The late-stage proposal, which is new and fairly untested, has divided area leaders and raised the possibility of a project that would reshape a large portion of the community.

For several years the city hitched its cart to Anschutz Entertainment Group's Farmers Field proposal, as the stadium initiative included a modernization of the Convention Center to be funded by stadium ticket sales. When AEG pulled the plug on football last year, the city moved ahead on an effort to upgrade the complex on its own.
Last June, the City Council approved a plan to have the firms HMC and Populous design a $470 million upgrade. The council asked City Administrative Officer Miguel Santana, along with a financial advisor (the firm Arup was ultimately hired), to look into how to finance the project.
In December, Santana came back with a report few were expecting.
He suggested that traditional financing using municipal bonds would create too much debt for the city. Instead, he advised adopting a public-private partnership (or "P3") that would transfer the debt risk to investors and shield the city's general fund.
Even more dramatically, Santana suggested not just renovating the Convention Center, but making it part of a massive mixed-use project that also creates housing, retail and other amenities. Such a project would reap bigger returns for the city and private investors, plus add to South Park's economic development, the report says.
"It runs against the grain, as a P3 is not the traditional way that buildings get built by the city," Santana said in an interview last week. "But given the amount of real estate here, this is a once-in-a-lifetime opportunity, and we can do it while minimizing financial risk."
The City Council's Economic Development Committee has brokered an unsteady compromise. On Feb. 9, it agreed to study both paths. A final decision won't be made until June at the earliest.
Mayor Eric Garcetti is in favor of exploring both options, and in a statement to Los Angeles Downtown News his spokeswoman Connie Llanos said, "He supports expeditiously exploring the benefits of a P3 model for the Convention Center concurrently with the environmental analysis."
Yet Councilman Curren Price, who chairs the Economic Development Committee, and whose Ninth District includes the Convention Center, said in an interview that the CAO's report "threw him off" and came "last minute," leaving lingering questions.
"I have some doubts. The Convention Center is a unique resource, so I don't think we should just go down a P3 road after reviewing a conventional approach for so long," he said. "And I don't think housing is the way to go. Don't bring that in last minute when it has never been vetted or discussed ever before in this process."
The suggestion to include housing also surprised Bud Ovrom, executive director of the Los Angeles Convention Center.
In recent memos to commissioners of the Los Angeles Convention and Tourism Board, Ovrom questioned whether housing should exist in a convention hub. He also cited the activity during February's planning for the Grammys and the U.S. Olympic Team marathon trials, stating that the entire West Hall was crawling with workers, equipment and vehicles.
"It is inconceivable that this degree of 24/7 activity could co-exist in the middle of a residential enclave," Ovrom wrote in a Feb. 17 memo. "You saw the comments we have already received from our clients who are totally opposed to housing for incompatibility reasons. From our conversations, we know that our unions are also going to oppose anything that converts job-producing land to residential."
Massive Project
The HMC/Populous plan would build a structure over Pico Boulevard to hold meeting rooms and create a smooth transition between the South and West halls. In addition, the West Hall would be rebuilt with a large indoor/outdoor gathering area and expanded exhibition space. A new ballroom would sit on the top of the West Hall. The city would act as the primary developer and float bonds to pay for the $470 million project.
The plan would be complemented by a 1,000-room hotel next to the Convention Center on city-owned property. The city has begun courting hotel developers and operators.
Santana's study recommends that the city find a private partner to design, build, finance, operate and ultimately maintain a new Convention Center, plus invest in building a campus around it with housing and retail. That could potentially build on an agreement the city already has with AEG to operate the Convention Center.
The plan could support up to 4.8 million square feet of new development, which would represent a roughly $2 billion overall investment (more than $2.5 billion with the inclusion of the aforementioned hotel), according to Arup's initial estimates. Tax revenues and ground rent (the city would still own the land under the new development) would in turn subsidize the expansion of the Convention Center.
Santana's report also states that the traditional financing approach would leave "money on the table" and put financial risk on the city that it "cannot afford."
"With a P3, the debt would not become part of the overall city portfolio. It would be on someone else's credit card," Santana said in an interview. "Investors would have a vested contractual interest in delivering the project on time and on budget. The second thing is that this plan would create a larger development that enhances the overall experience for Angelenos and visitors and produces more revenue for the city."
Some city officials worry about whether a P3 project could happen within the planned timeframe for the HMC/Populous proposal, which envisions breaking ground in 2018. Santana maintains that it is doable, but Ovrom, in his Feb. 17 memo, disagreed sharply.
"None of the other departments working on this project believe that is realistic," he wrote.
Ovrom's concerns stem in part from his office's communications with Strategic Advisory Services, a consulting and analysis firm that worked on Miami's failed P3 convention center project.
"I lived through the whole thing since late 2011 and would personally never recommend a P3 for a convention center in the U.S.," Jeff Sachs, founder and managing partner of Strategic Advisory Services, wrote in an email to Ovrom. It was also shared with the Los Angeles Convention and Tourism Board's commissioners.
Sachs cites higher financing fees (municipal financing almost always has lower interest rates than private financing), loss of design control, budgetary infighting and hidden costs as downsides, noting that the city of Miami is "very happy" it returned to a traditional financing model.
Santana counters that delays and budget problems exist with any major project, and that those issues would be made worse in a traditional financing plan that pushes the city's coffers to the debt limit.
"The P3 at least allows us to structure a contract so that if there are delays and added costs, that's on the investors," he said. "It's more predictable and accountable."
The current schedule calls for construction on the Convention Center to wrap in 2020. Independent analyses of both paths will be presented to the Council in June.
Read the entire article at DowntownNews.com
Reprinted with permission from L.A. Downtown News, DowntownNews.com